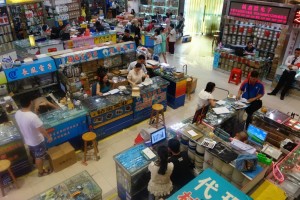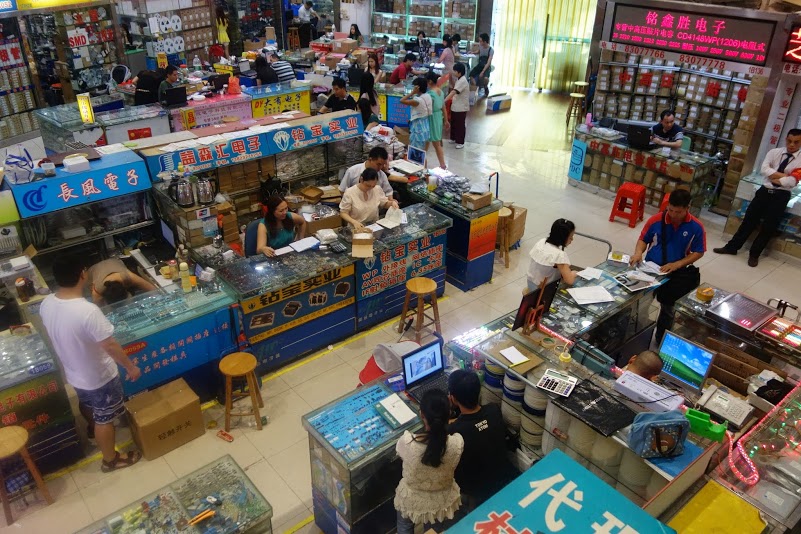 In Shenzhen, China lies the world's greatest electronics market named Huaqiangbei, pronounced huá qiáng běi (sound byte of pronunciation). Huaqiangbei is a Maker's dream. The market however is not foreigner friendly and requires some local knowledge to navigate.
Located 10 miles from Hong Kong, you may recognize Shenzhen as synonymous with Foxconn.  Foxconn, the world's largest electronics manufacturer, makes Apple products, Kindles, Playstations, and Wiis to name a few. Most factories are located an hour north of Shenzhen, but they maintain a presence in the form of a stall with sales representatives in Shenzhen's Huaqiangbei market.
As there are no direct flights to Shenzhen from the US, you'll fly into Hong Kong and then catch a van, ferry, or train to Shenzhen. For US citizens, getting to Shenzhen requires a Chinese visa. At the time of this writing, the visa must be obtained from the US and cannot be obtained from Hong Kong. Note that some EU countries and Australians are allowed to obtain a special five-day Shenzhen only visa from Hong Kong directly. Check with local regulations, as these rules are dynamic.
The traffic in Shenzhen is horrible. The locals will recommend travelling by car after 10:00 AM and before 4:00 PM to avoid rush hour.  For example, I left for the airport at 3:30 PM making the return trip back in 90 minutes, half the time it took to get to Shenzhen in rush hour.
The market is best accessed by metro from Huaqianglu Station. Huaqiangbei's consumer electronics shops are no different than what you'll find in the US or anywhere else with comparable prices. Skip these shops and spend your time in the buildings dedicated to Android tablets, "Shanzhai" phones (copies), phone accessories, components, LEDs, various gadgets, etc. A Shenzhen based open source hardware design firm named Seeedstudio has released a fantastic Shenzhen map for Makers calling out the specific buildings to visit (the link includes a downloadable PDF). I must say the map was invaluable.  Huaqiangbei has so many buildings, knowing which ones to visit was a big help.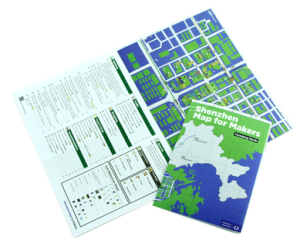 If you're like me and don't speak Chinese, things will be a bit more challenging as very few of the vendors speak English. Below are a few phrases below to get you by. When it comes time to talk price, just point to the calculator.   Every vendor has one and is more than willing to negotiate with it. Be sure and get a card from your hotel with the name and address in Chinese characters and you can simply present the hotel card to a taxi service.
| | |
| --- | --- |
| English | Chinese |
| Hello  | Nǐ hǎo.  |
| Thank You | Xièxiè. |
| Receipt | Fāpiào |
Being a foreigner, you'll be quoted slightly higher prices than the locals. The quoted prices however aren't outrageous and with some minor haggling, you can easily arrive at a fair price. I found the negotiation process to be very easy and in some cases, the price was more than fair to begin with requiring no haggling. Having been to some of the touristy electronics markets in Shanghai where the initial prices are 5x to 10x with aggressive sales tactics, this was a welcome relief.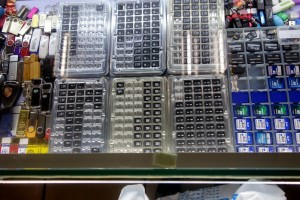 Remember these vendors are representatives from their factory and are there to sell in high quantities. Yes you can buy that memory card for a buck, just don't be surprised if you don't get a thank you.
| | |
| --- | --- |
|   |   |
| Each stall represents a Shenzhen factory | Each floor specializes in particular component |
|   |   |
| LED displays | Phone accessories and cables |
|   |   |
| Phone parts | A PCB board inspection microscope (I really wanted an excuse to buy it!) |
For Makers, I'd recommend also paying a visit to the following while in Shenzhen:
 Seeedstudio – a Shenzhen based open source hardware designer & manufacturer (appointment required)
Chaihuo – Shenzhen's hacker space
HAXLR8R – a startup incubator for hardware projects (appointment required)
Seeedstudio is quite an interesting company. Located in close proximity to Huaqiangbei's massive electronics supply chain, they simply make trips to the market for the majority of their needs. Seeed's capabilities run the full gamut from design, PCB board engineering, in-house manufacturing, fulfillment, and even an online store for Makers to sell their warez. In essence, they are a one-stop-shop for the busy Maker. Seeed grew up with and caters to the Maker community with preferred minimum quantity product runs of 100 pieces as well as a turn key service for fully soldered and assembled PCB prototypes of quantities 2 to 10. Seeed's staff of 130 and growing has produced open source designs of their own, mainly around the Arduino ecosystem.  Of particular interest is Seeed's Grove line of pluggable sensors and shields making rapid prototyping a snap and Seeed's new wearable electronics line, Xadow.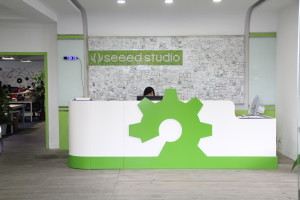 I've used Seeed for a few projects of my own, PIXEL and the DIY Magic Mirror. It was really great to see them in the flesh in Shenzhen. A portion of their business includes supporting small time Maker guys like me.Seeed has been a part of over 40 Kickstarter projects to date. For my projects, I leveraged Seeed very early in the design stage. Seeed in turn made recommendations and tweaks making the transition to manufacturing very smooth. Note that I receive no monetary compensation from Seeed. I am merely a customer who had a great experience and who believes in sharing.
| | |
| --- | --- |
|   |   |
| Seeed's Design Engineers | An early morning team meeting |
|   |   |
| Seeed's in house fabrication line | Pick and Place machine |
|   |   |
| Testing | Myself and Seeedstudio's Leslie Liao |
HAXLR8R is a startup incubator for hardware products in Shenzhen. Selected participants spend 111 days in Shenzhen receiving up to $50K in funding to take their idea to market.
Other Things to do in Shenzhen
A new bike path that runs along a new park the length of Shenzhen Bay.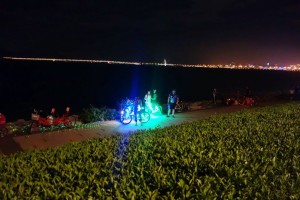 Take a stroll through a trendy part of town called OCT (Overseas Chinese Town). Of particular interest is the OCT Loft area where coincidently Shenzhen's hackerspace, Chaihuo, is located. Repurposed factory buildings house contemporary art studios, design firms, and some very tasty restaurants.
| | |
| --- | --- |
|   |   |
| A design company in OCT | An art gallery in OCT |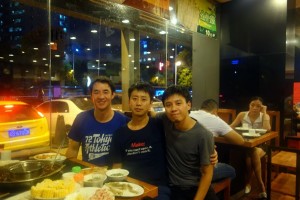 Myself and Seeed's Leslie Liao and Kevin Lau having Szechuan Hot Pot (Oh, so good!)
Just walk around your hotel and check out local life
| | |
| --- | --- |
|   |   |
| A typical apartment complex most Shenzhen residents call home | Local super market |