The PIXEL LED Art Frame (now with iOS support) is a nostalgically designed screen that displays your choice of animated, LED pixel art, giving you a place to view retro-flavored designs. It's controlled via Bluetooth through an iOS or Android app, and features 1024 ultra-bright LEDs, creating an effective resolution of 32 by 32 pixels. PIXEL is also fully hackable, and includes a Raspberry Pi integration for Makers.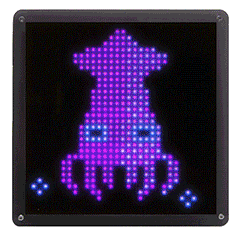 Your PIXEL comes pre-loaded with over 180 unique works of pixel art content, in collaboration with 12 pixel artists all over the world. You can also add your own pixel art LED designs – just use your favorite image editor or search the web for existing pixel art and then simply import the art into the apps. After that, PIXEL runs in stand-alone mode with no device connection necessary. But you can also leave your device connected and use PIXEL in interactive mode for things like scrolling text and text message notifications.
For Makers and DIYers wanting to do custom installations, our PIXEL 2.5 Maker's kit supports many different LED panel sizes from 32×16, 64×16, 128×16, 32×32, 64×32, and 64×64 as well as external sensors. Note the PIXEL 2.5 Maker's kit is only compatible with Android and does not include iOS support.
We are not making the larger SUPER PIXEL 64×64 frame at this time but you'll find parts and instructions here to make your own using our PIXEL 2.5 Maker's Kit.
Featured Pixel Artists on PIXEL
Paul Robertson is a Melbourne-based artist who graduated from RMIT's Media Arts in 2002. He has made several short films and worked on such games as Scott Pilgrim Vs the World, Adventure Time, Scribblenauts, Wizorb, Mercenary Kings and has animated for Disney and Adult Swim. He is inspired by video games, japanese animation, action movies, horror movies, demons, gods, maths, science, and the universe.
Jacob Giordano (King*Kaiju) is a freelance pixel artist, illustrator, and animator. With a love of pixel art and humor he started KingKaiju.com offering art, greeting cards, and other fun stuff.
Valenberg is a pixel artist and designer from Germany, working in different fields, such as animation, games and comics. He is also one of the founders of the Jet Plastic Comic-Anthology jetplastic.net
Hermippe is a pixel artist, illustrator, and circuit bender from Japan.
Dan Farrimond (Illarterate) is a multimedia artist from the United Kingdom. A professional teletext designer, his work has been exhibited in such diverse locations as Germany, Finland and New Zealand on television sets, computer monitors and mobile gaming devices.
Carl Douglas (Argyle) is a freelance digital art-slinger based out of Ohio, USA. Carl loves his job more than any artistic crustacean that the world has ever known.
David Canavese is a sculpture and pixel artist from San Jose, California.
Kirk Barnett (Pixel PileDriver) is a programmer and artist based out of Seattle, USA. Attending the Digipen Institute of technology he studied Art Production, Real-time Simulation Programming, and lots of math. Currently he is an indie game developer and co-founder of BlockLight.

Fernando Cristi (Kyu) is a graphic designer & game artist. He enjoys video game development and
works as a freelance artist living in Santiago, Chile.

Clement Swennes (Atnas) is a freelance artist and animator living in Philadelphia, USA. He's a hobbyist programmer and designer.

Bertrand Dupuy (DaLK) is a pixel artist and video game designer from France. He has developed games for the Gameboy consoles and most recently Nintendo DS and mobile devices.
Francisco Cifuentes (Metaru) is based out of Chile and has been involved in the pixel art medium for a decade, working on a diversity of media ranging from video games to music videos,  as well as taking on community roles such as deviantART's Gallery Director.
PIXEL was a successfully funded Kickstarter project. A big thanks to all of our KickStarter backers
, you made PIXEL happen.